Today, Celcom just announced an all-new convergence plan called Celcom MAX. It's a new hybrid data plan which combines both home and mobile Internet services, allowing customers to utilize the current digital lifestyle during the pandemic in terms of learning, working and playing from home. 
Celcom MAX is basically a plan that combines both Celcom Home Fibre and Celcom MEGA postpaid plans into a standalone plan and single-bill. With a promotional offering at only RM179 per month, this is a lifetime savings of RM21 every month from both Home Fibre (RM120) + Celcom MEGA (RM80). The unlimited internet speed is fixed at 100Mbps, as well as having unlimited calls on mobile plans and a free AX router for homes.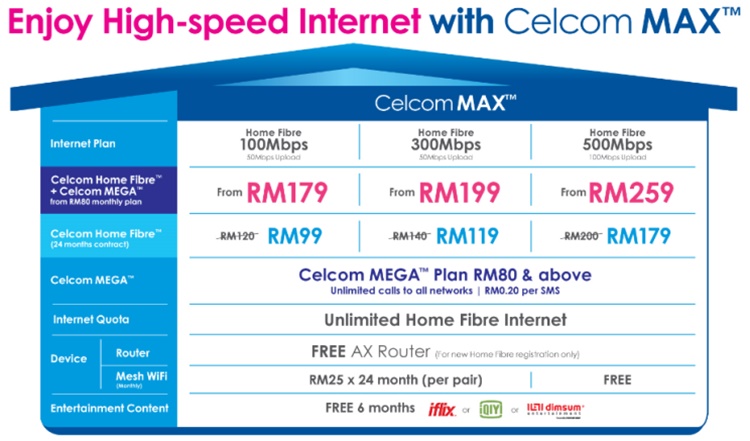 Besides Celcom MAX 100Mbps, there's also Celcom MAX 300Mbps and 500Mbps for RM199 and RM259 per month respectively. If you opt for the 500Mbps plan, you get a free Mesh WiFi unit and unlimited access to IQIYI or iflix for 6 months. Customers can also opt for an additional Celcom Mesh Wi-Fi for only RM25 per pair (2 units) for 24 months if they are opting for the other two plans. 
Starting today (6 April until 9 April 2021), the first 100 customers who sign up for the latest Celcom MAX plans or higher will enjoy a one-month bill waiver for free. Not only that, anyone who subscribes to any Celcom MAX plans will also enjoy offerings such as savings and discounts up to 50% on devices, a 60-inch Sharp TV, Microsoft Surface Pro X 256GB LTE or Surface Go 2 128GB LTE both with Type Cover. 

Customers can now subscribe with Celcom MAX by visiting any Celcom bluecube outlet, Celcom Certified Partners or call our Celcom Contact Centre at 1111 or 019-6011111. For more information on the all-new Celcom MAX, you may visit the official website right over here. What do you think of the plan? Let us know in the comments below and stay tuned for more trending tech news at Technave.com.